Laser Dentistry
Dr. Frank Esfandiari strives to stay up to the latest technology in dental industry. Dr. Esfandiari has recently purchased both Epic X and Waterlase iPlus to better serve his patients in Ventura, Oxnard, Westlake and other adjacent cities.
Epic X for TMJ Disorders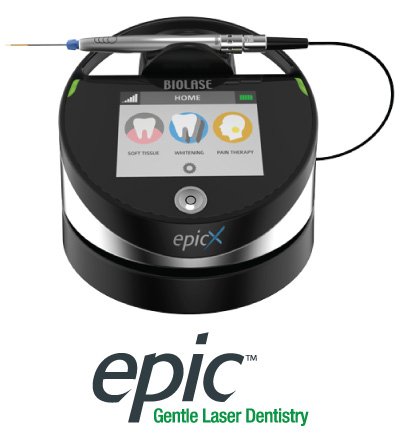 WaterLase dentistry is one of the most advanced dental treatments today. WaterLase uses a patented technology that combines focused light energy with a stream of water for a highly precise, exceptionally gentle dental experience. WaterLase allows your dentist to perform a wide range of procedures with benefits including:
Faster healing time and less trauma to teeth and gums.
Less anesthetic for most procedures.
Treating dental needs in more than one part of the mouth in one visit.
Making dental care a more relaxing experience for you.
The Benefits of WaterLase Dentistry
MORE COMFORTABLE
WaterLase dentistry uses laser energy and a gentle spray of water to perform a wide range of dental procedures without the heat, vibration and pressure associated with the dental drill. With many procedures, it's possible to use less anesthetic, or no anesthetic at all.
MORE CONVENIENT
Your WaterLase dentist can often get you in and out of the dentist chair faster, since it's less likely that you'll need an injection. It's nice to avoid that shot, isn't it?
Not using anesthetic can allow your dentist to perform procedures that used to require more than one visit in a single appointment. Also, a WaterLase dentist can perform procedures that once meant an additional trip to a specialist, saving you even more time.
MORE PRECISE
A WaterLase dentist can remove decay far more precisely than the drill. This saves more of the healthy parts of your tooth and avoids micro-fractures that the friction of a drill can cause.
Saving your natural teeth can save you the discomfort and cost of bridges, dentures and implants. Even better, studies show people with natural teeth live longer.
What Can WaterLase Dentistry Do?
We may use WaterLase dentistry laser to treat your gums or other soft tissue in your mouth to:
IMPROVE YOUR SMILE
We may suggest contouring or shaping your gums using WaterLase dentistry to improve the appearance of your smile – safely removing excess gum tissue that may give you a "gummy" smile, or make your front teeth appear irregular in size or shape.
REMOVE ORAL GROWTHS
Quickly and safely remove growths or excess tissue in your mouth including gum tissue over an unerupted tooth, small "tags" called papilla, and growths called fibromas.
FIX A "TONGUE TIE" OR PREVENT GUM RECESSION
Connections that restrict the movement of your tongue or cause your gums to recede can be "released" with less post-operative pain.
TREAT PERIODONTAL DISEASE
We recommend using WaterLase dentistry to remove debris and bacteria between your teeth and gums that can cause bleeding gums, gum recession and even loss of teeth. For moderate to severe gum disease, ask your Simi Valley dentist about REPAIR minimally invasive periodontal treatment.
We may also use our WaterLase iPlus laser to perform other procedures that could benefit you.
Contact your Simi Valley dentist, Dr. Esfandiari today to find out if WaterLase Dentistry is right for you.
What is a TMJ disorder?
Deciding on the Right Treatment
Temporomandibular dysfunction includes a wide range of disorders that often overlap. They include:
Muscle problems that affect jaw movement
Pain in the face around the jaw joint
Problems within the joint itself
This variety makes diagnosis and treatment challenging. An accurate diagnosis is critical for successful treatment. For instance, patients with a muscle problem that is causing pain will most likely not benefit from surgery on the temporomandibular joint.
Most problems, whether muscular or within the joint, get better over time. For this reason, most experts agree that it's best to use conservative treatment at first. But in some instances, surgery or other procedures, such as injections, may be recommended as a first treatment.
Most people with TMJ disorders have temporary symptoms that are not serious and do not get worse. They usually can get better with simple treatments done with a dentist.
Waterlase iPlus for periodontal treatment
Gum disease is caused by bacteria in periodontal pockets, deep in the gum tissue down to the tooth roots.
Previously, the only treatment option was periodontal surgery with a scalpel and sutures, cutting your gums to reach and eliminate bacteria.
Now, with the patient-friendly REPaiR Periodontal Treatment protocol using a WaterLase dental laser, we can preserve tissue and bone with a minimally invasive laser-based approach.
If you need just one tooth treated, or your entire mouth, laser technology helps us take better care of you and your oral health.
What is periodontal treatment?
Signs & Symptoms
The symptoms of gingivitis are somewhat non-specific and manifest in the gum tissue as the classic signs of inflammation:
Swollen gums


Bright red or purple gums


Gums that are tender or painful to the touch


Bleeding gums or bleeding after brushing
Additionally, the stippling that normally exists on the gum tissue of some individuals will often disappear and the gums may appear shiny when the gum tissue becomes swollen and stretched over the inflamed underlying connective tissue. The accumulation may also emit an unpleasant odor.
When the gingiva are swollen, the epithelial lining of the gingival crevice becomes ulcerated and the gums will bleed more easily with even gentle brushing, and especially when flossing.